The HomeBuilder Grant has been extended until 31 March 2021. For the latest updates on the HomeBuilder Grant please see the following article:
______
If you've been considering building a brand new home, there's never been a better time to act. The NSW government has released a 'HomeBuilder†' economic stimulus package, which means you may be eligible to access a $25,000 grant.
This time-limited grant applies to new homes built on a vacant block of land or as a result of a Knockdown Rebuild, with a contract signed between 4 June 2020 and 31 December 2020. Construction must also commence within 3 months of the contract date.
HomeBuilder will complement existing State and Territory First Home Owner Grant programs including the First Home Buyer Assistance scheme and the First Home Owner's Grant (New Homes) scheme, stamp duty concessions and other grant schemes, as well as the Commonwealth's First Home Loan Deposit Scheme and First Home Super Saver Scheme.
Information on exactly how to apply will be released through the NSW Revenue office in due course, but if you have any questions regarding eligibility or how the grant works, speak to an Allcastle Homes sales consultant.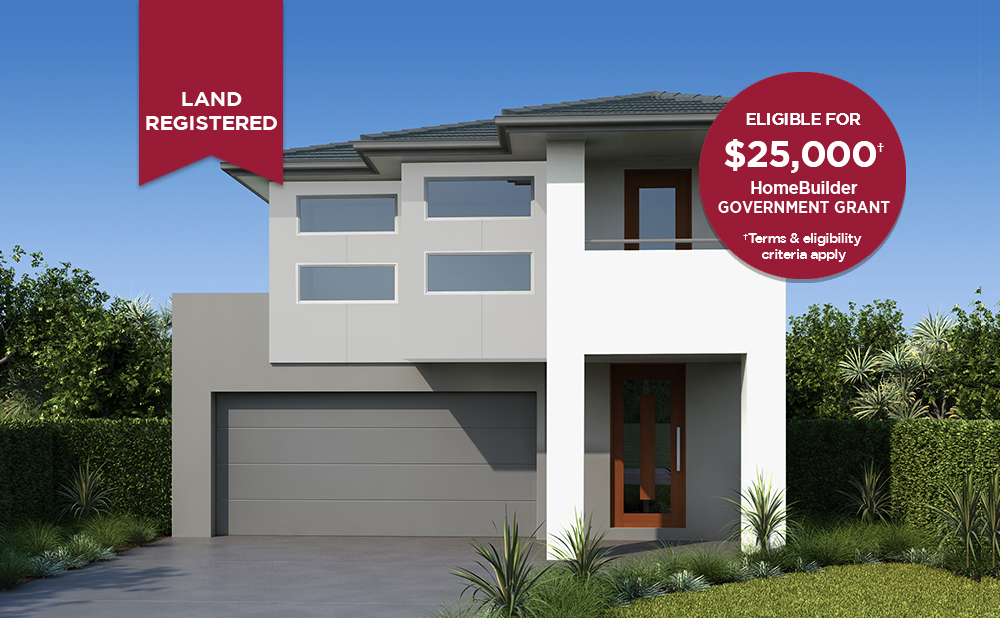 Build new for a fixed price
Allcastle Homes has a range of House & Land packages with new home designs ready and waiting to be built. When you purchase a House & Land package from Allcastle Homes you have the peace of mind knowing that these stunning homes come at a fixed price, so you know exactly how much your new build is going to cost upfront.
As Sydney's premier home builder for nearly 30 years, Allcastle Homes has formed unique relationships with leading land developers in NSW, which means our House & Land packages are available in prime areas.
These locations have been carefully chosen for their access to family friendly amenities such as schools, parks, cafes, transport and shops, so you can enjoy your new lifestyle in an area you'll love.
All you need to do is choose the floorplan and design that suits you and your family, and you'll be ready to build almost immediately.
A selection of Allcastle Homes' House & Land packages under $750,000 are eligible for the $25,000 HomeBuilder grant, so if you meet the criteria, you'll have a great financial boost in your journey to new home ownership.

Knockdown Rebuild in your dream location
The beauty of buying an existing house to knockdown and rebuild is that you're not only going to end up in your dream home, you'll also be living in your dream location. The suburb will most likely be more established, with all the amenities such as schools, cafes, parks and shopping nearby.
Allcastle Homes are Knockdown Rebuild specialists, and you may be surprised to learn that we can knockdown and rebuild an existing home from top to bottom for less per square metre than the cost of a major renovation.
No matter what size or shape your block is, Allcastle Homes has an extensive collection of designs and floor layouts to suit. You can choose from our masterfully designed double or single storey homes from our extensive collection, with designs for any budget and any block size. Of course when you rebuild from scratch, it's an exciting opportunity to really tailor the home to your exact needs with the most family-centric floorplans, top quality appliances and luxurious finishes at the most affordable possible price.
Knockdown Rebuilds are also eligible for the $25,000 HomeBuilder grant, as long as all the criteria are met. Allcastle Homes is here to help you expedite the process, managing your new build with an extraordinary level of expertise and commitment that ensures the entire building experience is as seamless and smooth as possible.
So if you've found a home in your dream location, talk to an Allcastle Homes consultant about how we can transform it into your dream home.

Elevate your investment potential
When to choose a knockdown rebuild with Allcastle Homes, you have the opportunity to maximise the potential of the block and elevate your investment potential.
In fact, making the most of any block's potential is an art our experienced team of professionals have perfected. We'll not only help you identify which designs will best suit your block, but also look at creative ways to help you make the most of your investment.
For example, your block may be able to accommodate a granny flat, which will make a seamless and stunning design addition to your home and give you greater flexibility to accommodate a large family, work from a large home office or use as a rental flat to gain extra income. A granny flat is also a great motivator when it comes to selling.
We'll look at how you can dramatically increase the size of your floor plan and outdoor living spaces, position the house to better capture the sun and create a home filled with natural light.
Speak to an Allcastle Homes consultant and uncover all the benefits of your existing location.
† Additional terms and personal eligibility criteria apply.  Contract must be signed between 4 June 2020 and 31 December 2020. Construction must commence within three months of the contract date. 

Refer to The Government Treasury or Revenue NSW for further details

.