Helping Australian families experience the dream of living a lifestyle beyond what they imagined possible has been our mission for over 30 years.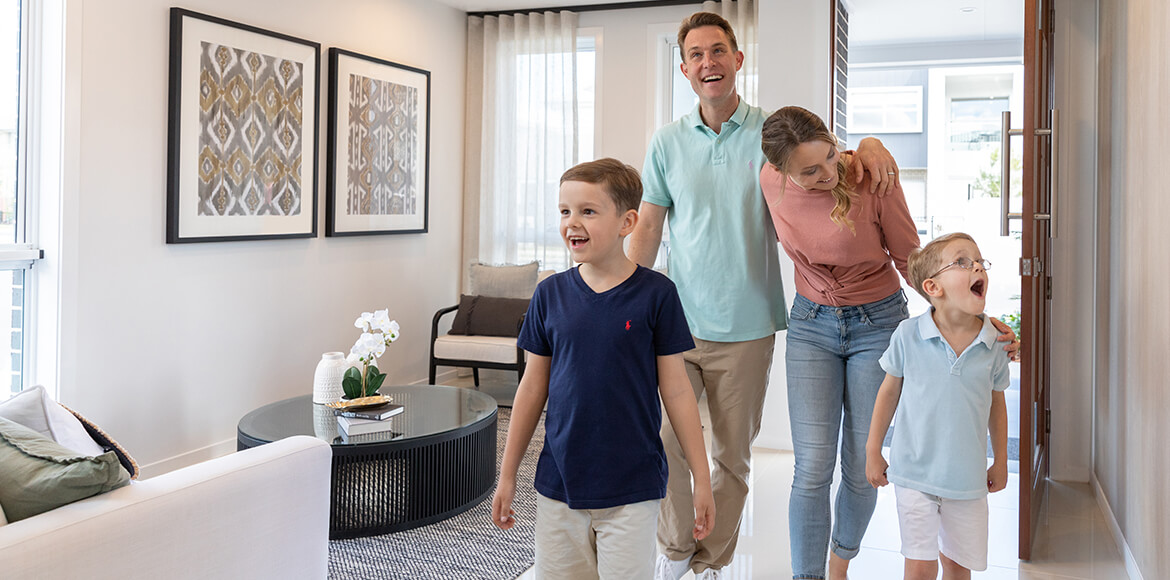 We're dedicated to building dreams with Australian families.
Our masterfully built high quality homes offer a level of affordable luxury that is unrivalled in the industry. With customisation options that cater to your lifestyle, you can truly make it home with Allcastle Homes.
No matter what your block size or budget, our innovative stylish designs give you a home that is filled with light, space and comfort where you can create a lifetime of memories.
For over 30 years, we've built a reputation for building high value, high quality family homes.
We understand that every family is different, which is why each of the homes we build are unique to you. We provide opportunities for customisation along each step of the journey, ensuring that the home we build for you is the home of your dreams.
Our homes are designed to leave a lasting impression — our innovative, stylish, spacious home designs live long in the memories of all who experience them.
From two-storeys and duplexes to single-storeys and granny flats, our designs accommodate all block sizes and requirements.
We offer
• New homes
• Dual dwellings
• Knockdown rebuilds
• Complete new homes
• House and land packages
Our Infinity Selection Centre has been specially designed to make choosing inclusions for your new home all about you.
Discover a huge range of product selection and the expert guidance you'll need to make your dream a reality.
Explore the product ranges, appliances, fixtures and finishes, that will make your home unique. bringing you a spectrum of colours, quality and style.
Our longstanding relationships with our trusted partners offer a wide variety of options and plenty of opportunities for customisation.
The choice is yours.
At Allcastle Homes we take pride in building high quality family homes.
Our family-centric design philosophy means that each of our homes feature spacious, light-filled interiors that provide your family with a home which will be enjoyable everyday.
However, we don't just design great homes — we build them with the same commitment to quality. Experience the confidence that comes with building with an industry-benchmark team of professionals. Our great deal of experience working closely with families is what guarantees that we'll deliver your home with the quality and certainty you need.
We have been building high quality family homes throughout Sydney and the South Coast for nearly 30 years.
We're proud to contribute our stunning designs and unique street presence to these popular areas where so many families have made an Allcastle home their own.
Take a look at where we build or if you have a location in mind, talk to an Allcastle Homes consultant or visit one of our display locations today.
Our homes are built around people and family moments.
There's no better way to imagine your life in an Allcastle home than to thoroughly explore the range of highly considered features, fixtures and finishes at your fingertips.
If you have any questions, or simply want to discuss any aspect of the home-building process, our expert consultants are always ready to take the time to speak to you. After all, at Allcastle Homes, we go the extra mile to make sure your experience with us is as smooth and successful as possible.
Visit our display locations in person, online with our virtual 3D tours or call 1300 255 999 for more information.