If this is your first step on the property ladder, congratulations! You're about to experience the journey of a lifetime as you work towards the dream of owning your very first brand new home.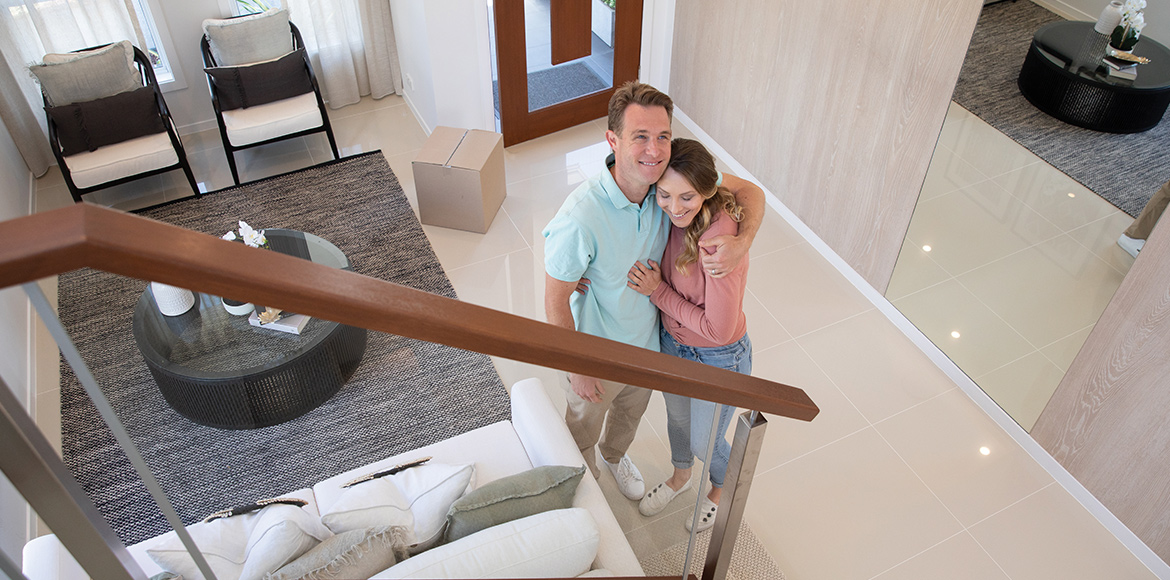 At first glance the process can be a little daunting as there is a lot of information out there about what you should and shouldn't do. At Allcastle Homes, we've helped many first home buyers just like you through the process and have put together a helpful guide that will make the experience far more enjoyable and memorable.
8 Must-Have Tips every First Home Buyer should follow
Careful budgeting for the future is an essential first step on the journey to becoming a first home buyer. Using a household budget calculator is a great way to see how much you exactly spend, where you can cut expenses (no more smashed avocado!), and how much you'll need in the future. It's important to be realistic, not just about your current financial circumstances but also about future costs. This will help you to work out how much deposit and monthly mortgage payments you can afford. Remember to allow for unexpected expenses too and extra costs such as bank fees and mortgage insurance which can cost well over $10,000.
Getting a government grant can go a long way into helping you get into your first home faster, and with less financial pressure. The NSW government currently has two grants that you may be eligible for.
The first is the First Home Buyers Assistance Scheme, which entitles you to a concessional rate of transfer duty or even an exemption from paying it altogether.
The second is the First home-owner grant, which if you're eligible, can give you $10,000 in addition to the First Home Buyers Assistance Scheme benefits. You can apply for these grants through your bank or financial institution when you arrange finance to buy your home.
Yes, you may dream about that luxurious 2-storey home with all the inclusions and amenities in a hugely popular location, but be prepared to keep an open mind. After all, there's no point in living in a huge house but having no money left over to enjoy your new lifestyle, or being stretched to the point where the strain of meeting your mortgage payments is causing you stress and anxiety.
As one of Sydney's favourite builders for nearly 30 years, Allcastle Homes offers a huge variety of affordable single storey and double storey homes all throughout Sydney and the South Coast. Masterfully built and beautifully appointed, our range gives you the opportunity to experience affordable luxury.
It's important to work with an expert finance or mortgage broker and choosing the right one can make all the difference to your first home buying experience. Allcastle Homes has partnered with leading mortgage specialists Mortgage Advice Bureau to help you through the financial minefield and get your home loan sorted.
The experts at Mortgage Advice Bureau take the time to listen to you and fully understand your lifestyle, budget and property goals. They'll then compare thousands of home loans from a network of leading lenders and give you the best possible options for your particular circumstances.
Helping first home buyers experience the dream of owning their own home is one of our a core missions. Allcastle Homes has built a reputation for building high quality, high value homes, customised to suit your lifestyle. From two-storeys, single storeys, duplexes and granny flats, our luxuriously affordable designs accommodate all block sizes and all budgets.
If you're looking to make an Allcastle Home your home sooner rather than later, a ready-built new home is the perfect solution. These masterfully built complete new homes are perfect for first home buyers as they are already under construction, which means you can move into your brand new home in a matter of weeks. Even better, you'll save on rent that you may be spending while waiting for your new home to be built. You'll also be able to see exactly what you're getting for your money, with no hidden costs. Allcastle Homes has a variety of ready to move in homes available at very attractive prices in many locations around Sydney. Our ready-built homes include quality inclusions and driveway and turf to front and rear yards, so you can be celebrating with a housewarming party sooner than you think!
A House & Land package from Allcastle Homes gives you a brand new house and land for a fixed price. As Sydney's premier builder, we have a unique relationship with leading land developers throughout Sydney that gives us premium access to amazing blocks of land in prime locations. The beauty of our House and Land packages is that they are ready to move in and include quality inclusions, so you can see the finishes of your home and have peace of mind knowing you're not going over budget.
One of the easiest ways to get onto the property ladder with less stress and less financial worry is to choose an Allcastle Homes' Plus+ package upgrade to suit from our collection of homes. The Plus+ process is super simple, because all the inclusions you want in your home are wrapped up into one affordable package.
As expert home builders for nearly 30 years, we know that the right inclusions can make all the difference to how your home looks and feels. But with so many options available, choosing which inclusions you'd like can be a little confusing, especially if you're on a budget.
Our Plus+ Inclusion Upgrade features products such as kitchen appliances, video intercom, alarm, flooring, engineered Smartstone quartz benchtops and much more. Standard site costs and BASIX requirement* are also included in your one upfront price, so you can experience the luxury of a home that's comfortable and contemporary, with the peace of mind knowing exactly how much it's going to cost.
*Standard site costs and standard BASIX terms and conditions apply. See Terms and Conditions for details.
Need some help to get started?
Our experienced consultants can assist. Contact us on 1300 255 999 or send an enquiry today.