Applying for a home loan can often seem like a complicated and stressful process, especially if you're buying your first home. There are many factors that influence the application and approval process, and we know that many people get confused when faced with too much, or not enough, information.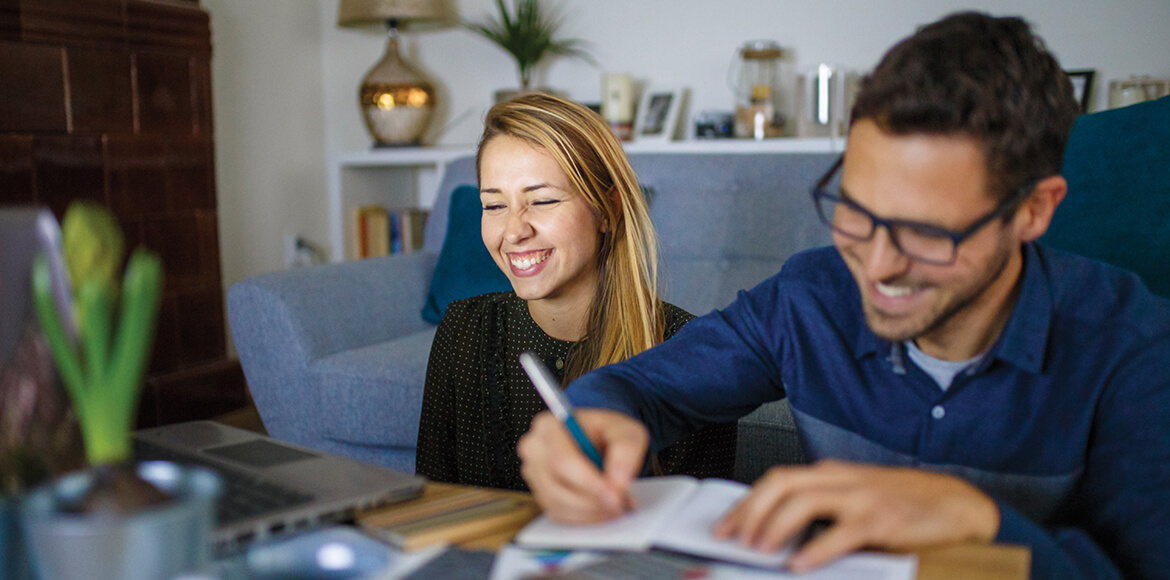 5 tips for getting a home loan
To help make the journey to getting your home loan smoother and less stressful, we've put together our 5 top tips for securing a loan and putting yourself in a best position to gain approval. From reducing your debt to proving you can keep up with repayments, follow these simple tips and you could boost your chances of a favourable home loan decision.
In recent years, mortgage lenders have become considerably more cautious about how they approve credit applications. Deposits don't come cheap, and research shows that almost 40% of first homebuyers in particular have relied on parental or family assistance in order to get into the market. In short, the more cash you can save up before making an application, the better your chances could be of getting approved.
While a deposit of 5% of the purchase price is generally the minimum requirement, having a 20% deposit will mean you'll avoid paying Lenders Mortgage Insurance, which adds to your monthly repayments. Plus, the higher your deposit, the less you'll have remaining on your balance, so you could be in a better position to pay your mortgage off sooner.
We highly recommend you set up a savings plan (on your own or with a partner) where you put away a set amount each month towards your home loan deposit. Work out what you can afford after all your other expenses to ensure you meet your agreed amount – and if you can pop a bit more in from time to time, all the better.
Having a high level of debt could impact your ability to get approved for a home loan, as well as the amount you'll be eligible to borrow. The more you can reduce the amount you owe creditors, the better your chances of getting approval.
To make yourself more attractive to mortgage providers, aim to reduce your existing debt levels as much as possible prior to applying for a home loan. This might mean reducing the outstanding balance on your credit card or paying a little extra on your car loan to bring down the amount you owe.
In addition, you don't run the risk of setting your heart on a particular home, only to find out it doesn't fit with what you can afford.
To obtain pre-approval, talk to your mortgage broker or a consultant at Mortgage Advice Bureau. You'll need to submit some details about your finances so they can accurately assess your situation. The pre-approval process will cover things like the amount you're eligible to borrow, as well as the interest rate you'll pay on your loan. Once you have pre-approval, you'll have greater peace of mind knowing exactly how much money you can spend.
In addition, try to avoid accumulating new debt during the mortgage process, such as using your credit card to make purchases or taking out new loans.
Your credit history can have an impact on your home loan application, yet research shows that 73% of Australians don't even know what their credit score is. The good news is, you can get your credit score for free quickly and easily online at Credit Savvy. Knowing where you stand can help you work towards improving your credit score if it's too low. Visit CreditSavvy to find out your Credit Score.
If you frequently miss repayments on other loans or fail to pay a bill on time, your credit score can be negatively impacted – and this could affect your ability to obtain a home loan.
Once you've got a copy of your credit report, check the recommendations for how to boost your score and do your best to clean up your credit history going forward.
Demonstrating a good repayment history can put you in a better position in the eyes of mortgage lenders. Negative events such as frequent missed or late repayments could act as a black mark against you, even if these events haven't yet impacted your credit score.
Bank statements showing on-time repayments for your rent, car loan, credit card or other liabilities could reassure a bank or home loan provider that you're capable of keeping up with your required payments without delays or defaults. Think about prioritising timely repayments in the run-up to your home loan application to make sure you never miss a payment.
Getting pre-approved for a home loan before you start house-hunting can be beneficial in a number of ways. For starters, you'll have a clearer idea of your budget so you can narrow your search and avoid over-bidding. In addition, you don't run the risk of setting your heart on a particular property, only to find out it doesn't fit with what you can afford.
To obtain pre-approval, you'll need to contact a mortgage provider and submit some details about your finances so they can assess your situation. The pre-approval process will cover things like the amount you're eligible to borrow, as well as the interest rate you'll pay on your loan.
Ready to be inspired about your brand new home? Discover our huge range of stunning and affordable home designs today.
Need help with finance? We're here to help.
Getting a home loan can be quite a stressful and confusing part of the home building journey. That's why Allcastle Homes has partnered with leading mortgage specialists Mortgage Advice Bureau to help you through this process.
Mortgage Advice Bureau provide specialist mortgage advice and pride themselves on taking the time to understand your lifestyle and property goals. Whether you're a first home buyer, a sophisticated investor or looking to refinance to purchase another property, the team at Mortgage Advice Bureau are here to assist.
A quick chat can help determine your budget and with access to thousands of finance products they can guide you through the entire finance process including providing you with pre-approvals, and right up until the day you get the keys in your hand.
Mortgage Advice Bureau can assist with finding and securing the right finance to help you with:
Construction loans for your new build

Purchasing a complete home or house and land package
Purchasing your first home or next home
Pre-approvals
Investment loans
Refinancing
Contact us for a no cost consultation
If you would like Mortgage Advice Bureau to help with financing your new home, speak to an Allcastle Homes consultant for further information or contact us below:
Get the facts on your finance
Savings Calculator
Take the hassle out of number crunching with the Mortgage Advice Bureau Savings Calculator, which will help you calculate your estimated home loan repayments and see how much interest is paid over the life of your mortgage.
How much can you borrow?
It's important to know how much you can borrow before you start shopping for your new home. This handy borrowing calculator helps you find out how much you may be able to borrow based on your income, expenses and number of dependants.
Stamp Duty Calculator
Stamp Duty can add quite a chunk of money to the overall cost of your new home, so it's important to factor it into your borrowings. Use this Stamp Duty Calculator to see how much you will have to pay.