Infinity Selection Centre for new home builders
Throughout your entire home building journey with Allcastle Homes, you'll be making key design decisions that will truly make your home your own. One of the most inspiring and exciting parts of the journey is when it comes to choosing special inclusions for your new home at our Infinity Selection Centre.
Guided by your colour consultant and our interior design specialists, you'll have free reign to explore all the new products, fixtures, fittings and appliances that will transform your home into the luxuriously liveable space you've always dreamed of.
See your dream become a reality.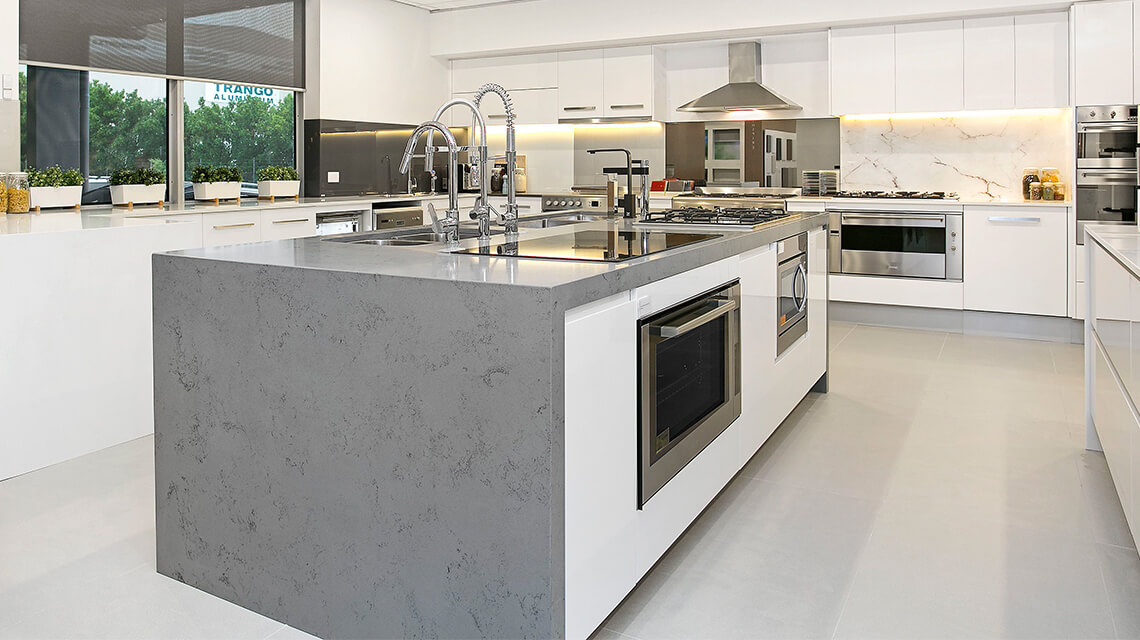 Everyone has a different idea as to what their dream home should look like. And while brochures can tell one part of the story, there's nothing like experiencing colours, textures and finishes firsthand. You'd be amazed at how certain colours can dramatically affect the look and feel of a room and seeing them up close and personal is the best way to choose a colour palette that reflects your vision.
If you love the easy liveability of Scandinavian style, you'll be looking at our warm wood and light colour options.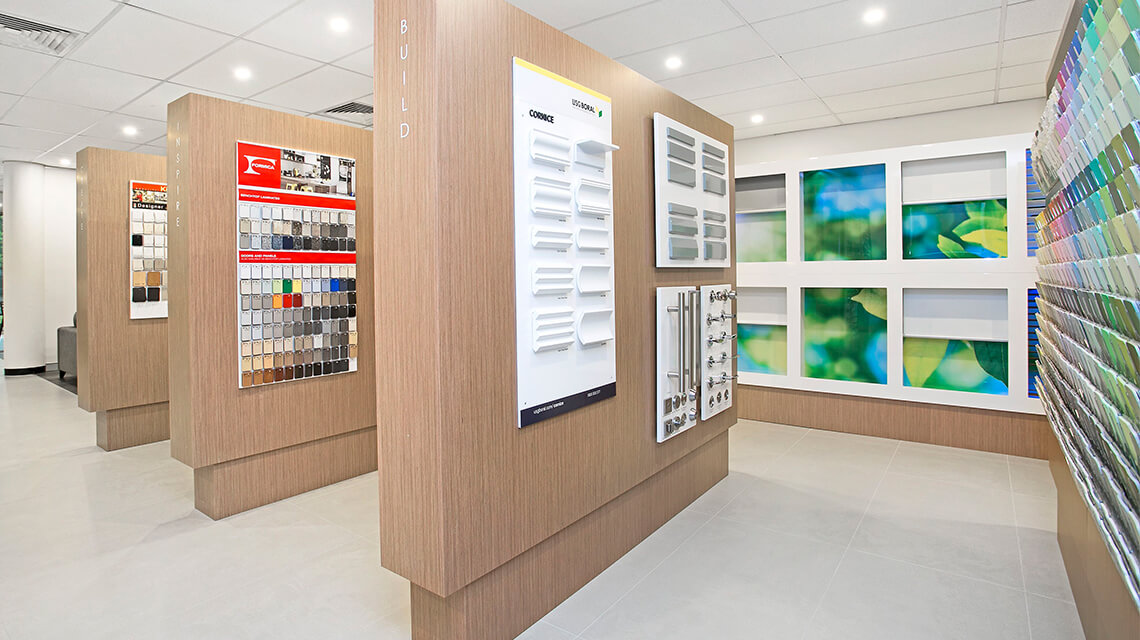 Perhaps the cool sophisticated Hamptons look is more your style, in which case, neutral colours and contrasting textures would be a great choice. If you're looking to make more of a bold style statement throughout your home, you can explore a brighter, richer colour selection that will create an eclectic, dramatic style.
No matter what your dream home looks like, the customisation options at our Infinity Selection Centre will bring it to life in full colour.
Need guidance? Our style experts are here to help.
With so many options on display at the Infinity Selection Centre, deciding what you like and knowing how it's going to look can be a little overwhelming. Our expert consultants are here to guide you through the decision-making process and help bring all your dreams and ideas together in one cohesive style.
They know colour, they know trends and they know how to help you create a home that reflects your unique taste and lifestyle. If you have young children, they can advise on the right flooring options to withstand heavy foot traffic, spills and little accidents. If you're after a home that offers easy, low maintenance living, they'll show you the best products and finishes to match that vision. If absolute luxury is your dream, once again, they can help you expertly mix and match everything you need to achieve affordable, luxury living.
Immerse yourself in Inspiration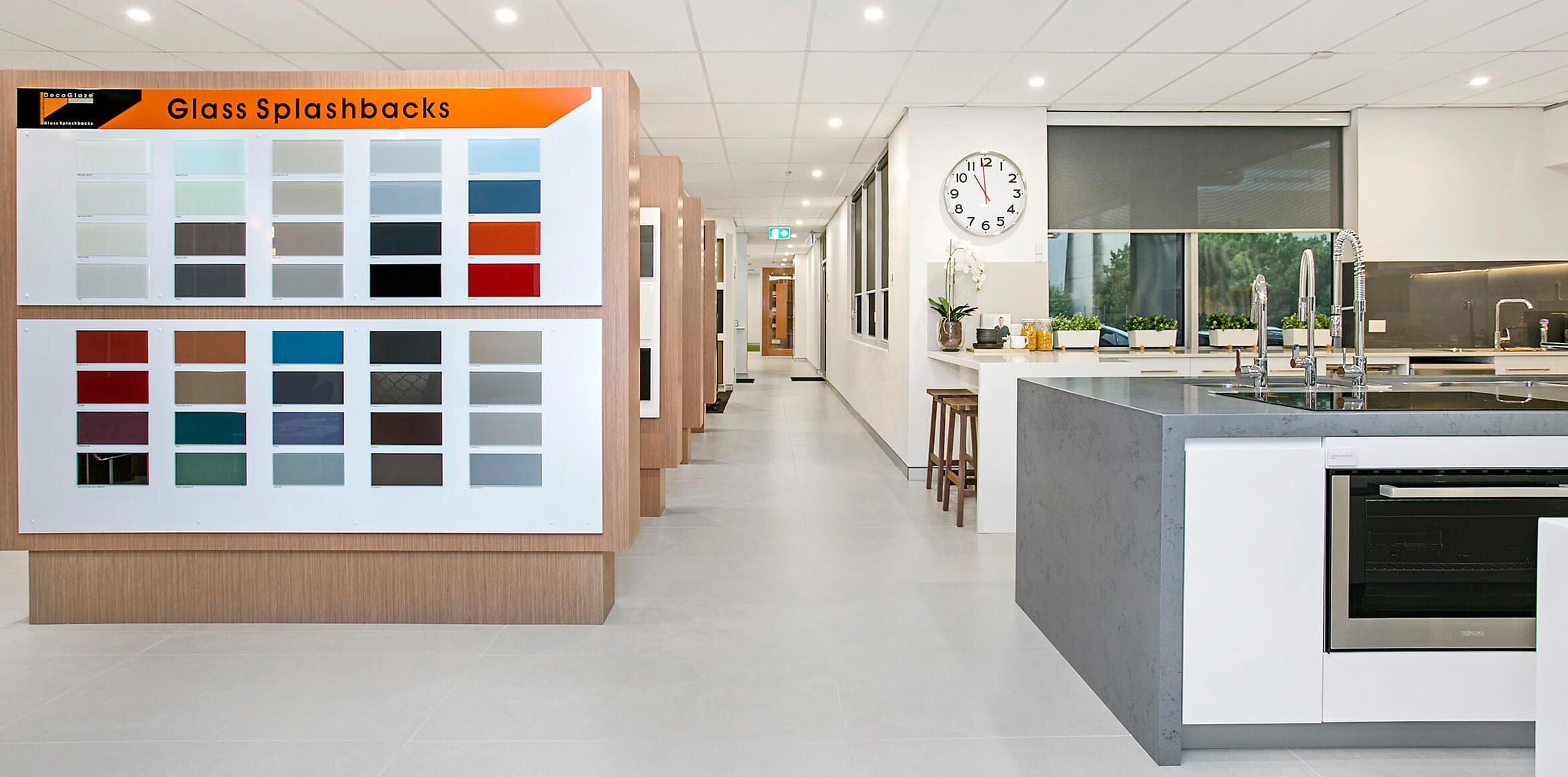 Our Infinity Selection Centre has been specially designed to be an immersive, creative experience that will help unleash your inner designer. With so much to see and touch, you can really get a feel for what your new lifestyle is going to be like.
Play with appliances, explore the different vanities and taps, feel the flooring, tiling and finishes and see which colours resonate with your design sensibilities. Check out the huge range of exterior finishes and colours to create a stunning façade that will be the envy of your street.
Make it home with the Infinity Selection Centre, unique to Allcastle Homes.
High end brands to make your home beautiful
Allcastle Homes has partnered with high end suppliers such as Colorbond, Daikin, Taubmans, Reece, DecoGlaze, Hume Doors and Smartstone, which provides you with customisation options that deliver a world of luxury and style to your door.
With over 50 years' experience as specialists in the industry, Daikin is one of Australia's most trusted names in air conditioning, which is why you'll find them in our homes. Daikin prides itself on designing products that provide clean, efficient and superior comfort in the places we live, work and play.
Much more than just functional, Hume Doors & Timber are designed to add a spectacular architectural statement to your home. The styling and visual language of their internal and external doors is inspired by design trends, innovations and advancements within the building sector. Hume is a 100% Australian-owned family company that is committed to providing innovation in doorway technology and products, which is why Allcastle Homes are proud to offer their visually impactful and meticulously designed products throughout our range.
An undressed window is like a dress without shoes! Window coverings are great at giving your home privacy, insulation, light control, security and style. Choosing quality blinds and shutters can set the tone for your interior and are an important factor in how your new home looks and feels. Betterview Blinds & Shutters is a Sydney company with 35 years' experience providing custom-made window furnishings, from roller blinds, panel glides, venetians, plantation shutters and more. With a commitment to using high-quality materials and performing quality installations, they are a proud member of the Allcastle Homes family.
Beautiful bathrooms are made by Reece. The Reece Group operates Australia's largest plumbing and bathroom supplies business, as well as 8 others in allied industries. Reece is continually expanding into fresh areas, developing new technologies and systems and pioneering innovative products to bathe your bathroom in luxury and style.
Smartstone is Australia's fastest growing distributor of engineered quartz surfaces and has become the name trusted by architects, interior designers, renovators, builders and developers. Smartstone is the ultimate choice for stone kitchen benchtops, as well as the ideal surface for an almost-endless array of interior applications. Offering excellent value, Smartstone is the smartest way to enjoy the prestige of natural stone benchtops without the price-tag.
Taubmans has been painting Australian homes for over 110 years, and is now one of Australia's most well-known and respected paint brands. Responsible for launching well known and innovative consumer paint brands such as Endure with Nanoguard, Living Proof Silk with DURACLEAN®, Easycoat with Microban® and All Weather with Dirt Shedding Technology, Taubmans paints a perfect picture of low maintenance, modern living.
Established in Sydney in 1998, DecoGlaze™ is Australia's leading glass splashback provider, offering the highest quality products and a total commitment to customer service. DecoGlaze™ is a trusted Australian company offering a guarantee of up to 10 years on all Glass Splashbacks.
Here in Australia, our homes face some pretty challenging weather conditions from extremes of heat and cold, to dust, rain, wind and hail. And it's for this reason that COLORBOND® steel is assessed at outdoor sites around Australia, as well as in accelerated laboratory testing. COLORBOND® steel is durable and resilient to Australia's harsh climate and its long life helps conserve resources and energy that may otherwise be invested in products with a shorter life span. All COLORBOND® steel contains recycled content and is 100% recyclable. This makes COLORBOND® steel a good choice for your home, your wallet and our planet.
Keeping your home and family safe doesn't need to be complicated. That's why Allcastle Homes has partnered with the leading BOSCH security system to provide sophisticated
electronic surveillance for your home for peace of mind. For over 100 years, the BOSCH name has stood for quality and reliability. BOSCH is the global supplier of choice for innovative technology backed by the highest standards for service and support.
Kingspan has manufactured and supplied long-lasting, quality AQUAPLATE® steel water tanks and accessories for Australian homes for over 80 years. Each water tank comes with a choice from a huge range of Colorbond® colours and comes with a 10-year construction warranty* and 20-year warranty* against corrosion.
Monier has a very rich and proud history in the Australian and New Zealand building industries. From the original terracotta tile to the extensive range available today, Monier tiles have long been a trusted roofing solution, standing up to our tough Australian and New Zealand conditions.
Your roof takes up to 30% of the external façade, it significantly contributes to the look of your home so you need to make the right choice for you and your family. Roof tiles that get stronger with age and are perfect for all-weather conditions. Monier's standard concrete tile range with C-LOCTM Colour Lock Technology has 8 times more gloss retention and colour performance than other concrete tiles.
Technika has helped Australian families make lasting memories for over 20 years. Every appliance is designed right here in Australia to ensure the highest quality.
With style and innovation that's sure to impress, make Technika the heart of your new home.

The Technika Home Collection focuses on innovation and bringing luxury into Australian kitchens. Surround yourself with sophistication and quality.
With the beauty of European-styling and the peace of mind that comes with Australian design, Technika Home appliances are guaranteed to be beautiful and dependable.