As our population grows and the demand for homes increases, it seems building blocks are becoming more and more narrow. When we say narrow, we generally mean a frontage, or width, of around 12.5 to 8.5 metres.
Of course, some blocks are even slimmer. One of Australia's narrowest homes is a terrace in Enmore NSW. It has a 2.5m wide front lounge room, with a bedroom tucked behind, leading to a 2.4m wide kitchen!
Building on narrow blocks throws up specific challenges around room size and configurations, light and orientation, kerb appeal, car accommodation, and storage requirements. The proximity of neighbours also has an impact in terms of noise insulation, window selection and landscaping.
Fortunately, Allcastle Homes has done all the thinking for you. With a specially designed collection of narrow facade homes that includes our popular Bannaby facade and a range of gorgeous Hampton inspired homes, we've created a selection of luxurious, spacious homes that make the most of almost any narrow block.
Whether you want a mini or a mansion, Allcastle applies the same attention to detail and design, so you are greeted by an amazing feeling the moment you walk through the door.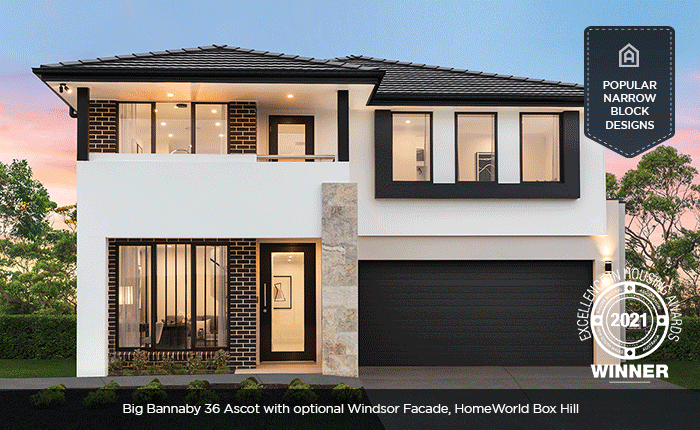 Fill your home with Light and Space
The biggest priority when designing for narrow blocks is to make the most of the available space, so the home feels wider than it really is and has a sense of spaciousness.
There is only so much you can fit across the width of a narrow block, so Allcastle focuses on floorplan layout, natural lighting, and multipurpose spaces.
In the Allcastle Big Bannaby 36 Ascot, the kitchen, living, and dining areas are combined into one grand open plan space at the rear of the home. Ditching the dividers and using sliding doors along the back wall we invite an abundance of natural light to flood in.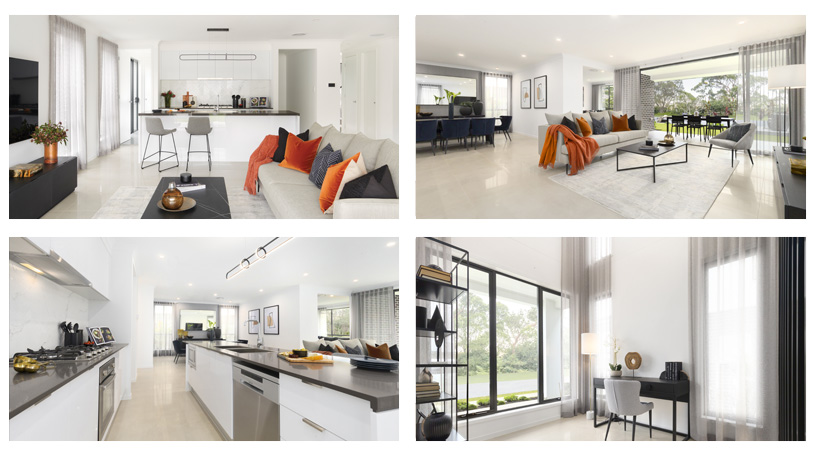 Popular Narrow Block Home Design: Big Bannaby 36 Ascot, HomeWorld Box Hill
Staircases with an open tread and optional glass balustrades will also allow light to filter across the ground floor effectively.
With some interior design smarts, it's easy to create separate zones visually within these areas. Strategically place rugs, plants, furniture, and shelving as room dividers. You can also make the most of your limited space by looking out for coffee tables and ottomans that have storage inside, or couches that double as a sofa bed.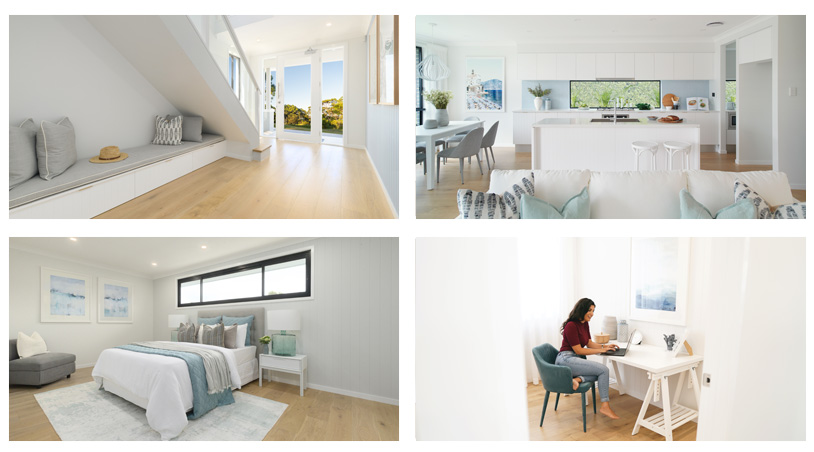 Popular Narrow Block Home Design: Bannaby Avoca, HomeWorld Box Hill
Go Alfresco
Many of Allcastle's Narrow Block floorplans like the Bannaby Avoca open out onto alfresco areas. Blurring the line between inside and out can create the illusion that your home takes up the whole block, extending it into the back yard and creating a perfect social space for family and entertainment.
Courtyard areas also draw light and breezes into the centre of the home. Choosing a light, bright colour palette for your walls and off-white tiles for the alfresco floor will reflect even more natural light into your home.
Planting a vertical vegetable garden will make a stunning biophilic feature that adds splashes of colour and feeds the family without taking up much space.
You'll find a wide range of tile options and other beautiful appliances, fittings, and fixtures at the Allcastle Infinity Selection Centre. An expert Allcastle consultant can guide you through the decision-making process and help bring all your dreams and ideas together in one cohesive style.
Reach New Heights
Giving a sense of volume to your home with high ceilings takes the focus off what you're lacking in width and adds an extra touch of luxury. The standard height of ceilings is usually 2.4m but with Allcastle you can upgrade.
Increasing the height of your ceilings is an additional cost, but the feeling of space can be as important as the actual footprint when it comes to adding value to a house. Homes with higher ceilings are said to sell for more than similar homes with standard ceiling heights.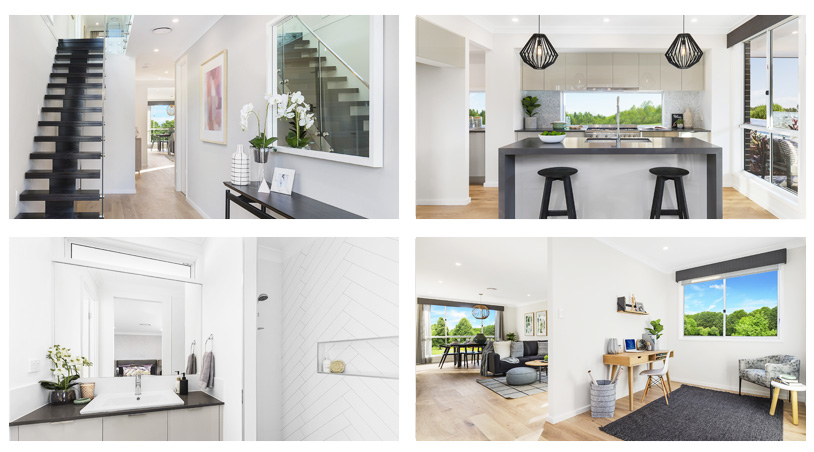 Popular Narrow Block Home Design: Julia MKIV, HomeWorld Leppington

Create Street Appeal

Another challenge for homes on narrow blocks is street appeal. First impressions count but from the street some narrow homes appear to be "all garage". Visitors may even have trouble finding the front door.
You may be surprised to know that this can present issues for the safety and security of your home and the whole street. It's been shown that less undesirable activity occurs in neighbourhoods where residents keep an eye on what's happening*. So it's important that your home gives the impression it can "see" the street, whether you are inside or not.
Allcastle's facades create a vibrant street presence by using a striking mix of materials, tones, and layers. The Allcastle Fitzroy, Surround and George facades combine a roomy double garage with a welcoming central front entry. Facades like the Audley and Pioneer have upper storey living and bedrooms overlooking the front of the home that help generate interactivity between the residence and the street.

See Allcastle Homes Complete Facade Collections
The value of off-street parking shouldn't be underestimated either. In Sydney's CBD and parts of the eastern suburbs, garages can add many thousands of dollars to the value of a home.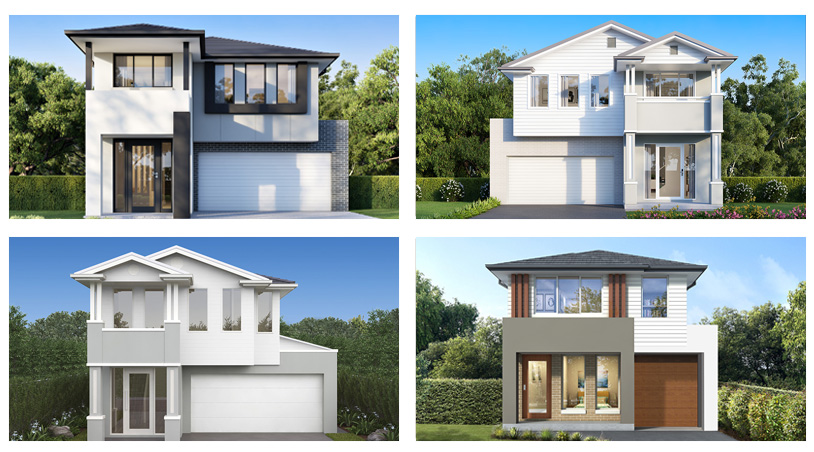 Allcastle Homes has various Narrow Block Facade Designs

Be Smart with Storage
Storage is critical in narrow home design, especially for growing families. You'll want to make sure your home makes the best use of every spare inch of space available.
The Bannaby Avoca uses every nook and cranny. At just under 9 metres wide, it offers a double garage and five bedrooms. There's plenty of storage with two linen areas, a walk in pantry off the kitchen and even under stairs Hamptons Mud Room, featuring 3 drawers, a bench and hanging space. Upstairs alongside the bedrooms, the main bedroom features his and her walk in wardrobes and there's a comfortable living space.
Small on space doesn't mean small on style
Just like the Big Bannaby 33 MKII and the rest of Allcastle's narrow block collection ensure everything fits, and there is no wasted space. You can have it all, stunning facades, open plan living areas, seamless outdoor entertaining, and generous storage without compromising to meet the requirements of today's slimmer blocks.
Allcastle Homes can tailor each design to match your lifestyle and budget.

Check out the full range today and contact an Allcastle Consultant about the best design solution for your narrow block.