With its bright, airy style and laidback coastal feel, it's not hard to see why Hamptons design forms the inspiration for stylish homes across the world. Here in Australia, our world-renowned beaches and love of the ocean makes a Hamptons-style home an ideal choice for homeowners looking to capture those cool coastal vibes.
And while Hamptons-style interiors tend to conjure up images of large, spacious rooms and sprawling resort-style homes, the good news is you can just as easily create a Hamptons look and feel in a smaller space.
Here are our top tips for adding a touch of beautiful Hamptons style to any home.
1. Coastal Colours & Beachy Tones
Cool coastal blues offset by fresh whites instantly evoke ocean breezes and crashing waves – and these water-inspired colours form a key part of a Hamptons colour palette. But you can also think beyond blue and white when creating your Hamptons-style home.
Darker shades of charcoal and grey tones can form a stylish contrast against lighter colours, while a warm neutral palette with earthy shades of stone and sand can help to capture a natural beach feel.
And with so many wonderful shades of blue on offer, don't be afraid to branch out from nautical navy and play around with aqua, turquoise and cobalt blue for vibrant pops of vivid colour.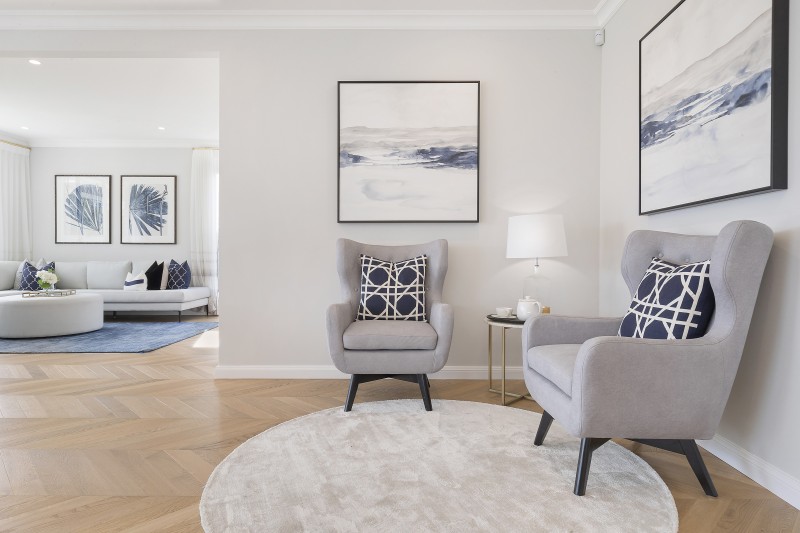 2. Textures Inspired By Nature
When it comes to textures – whether in furnishings, homewares, or fabrics – opt for natural and organic materials that bring a touch of the rugged coastal outdoors to your interiors. From timber and stone to linen, cotton, wool and even leather, look to Mother Nature for inspiration for the textural element of your Hamptons home design.
Stripes and chequered fabrics used in a contemporary way can add an interesting and playful touch to your Hamptons-style design, so consider items like pinstriped cushions or a large chequered rug.
3. Furniture Made For Relaxing
A Hamptons-style home is designed for effortless entertaining and laidback gatherings, with furniture that supports this relaxed social ambience. Comfort is key, so look for pieces like deep, overstuffed sofas that offer a perfect spot for sinking into, adorned with plenty of soft cushions, piled up for that inviting feel.
Continuing on the seating theme, a typical Hamptons home will offer plenty of options for family and friends to put their feet up – think plush ottomans and large armchairs in cane or rattan, dressed up with plump cushions.
Natural or white-painted timber is the perfect fit for the Hamptons style, so when choosing furniture such as sideboards and tables, opt for natural-looking pieces that have a rustic organic charm.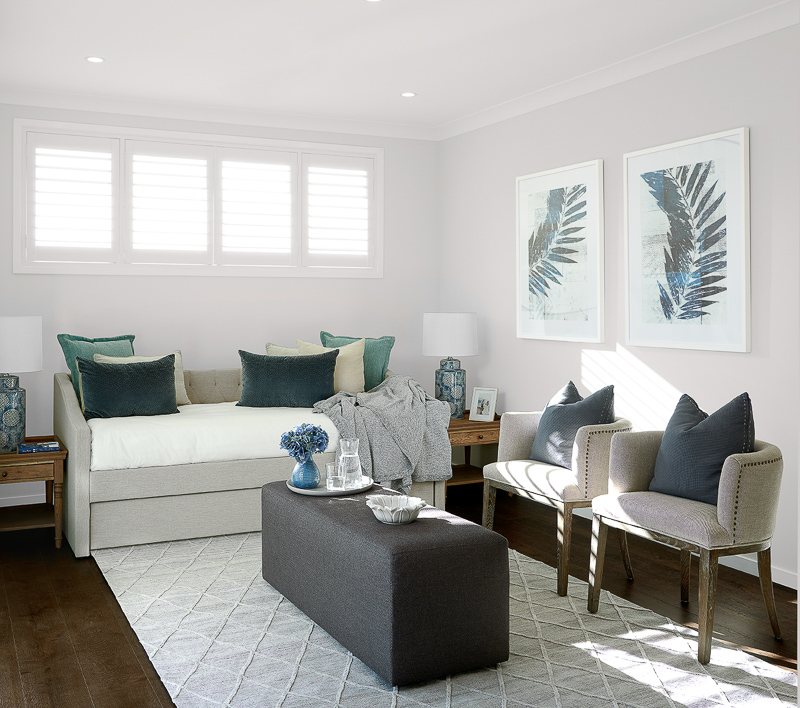 4. Light-Filled Interiors
When you think of a Hamptons home, you're sure to picture beautifully bright interiors bathed in natural light. While not every home will have the benefit of an abundance of natural light, be sure to maximise the available light you have in your space by avoiding heavy draping and keeping window dressing as minimal as possible.
In terms of internal light sources, there are plenty of Hamptons-esque ways to introduce light into your space. Natural-looking pendant lights such as those with basket or woven-style fittings will blend in beautifully to a Hamptons-style home, while wall lights and sconces can be used to add additional soft lighting that's in-keeping with this style.
Table and floor lamps are another great way to bring light to areas that need it. Choose lamps that fit with the coastal colour scheme of the room, such as eye-catching blue and white with a light-coloured shade to maximise the given light.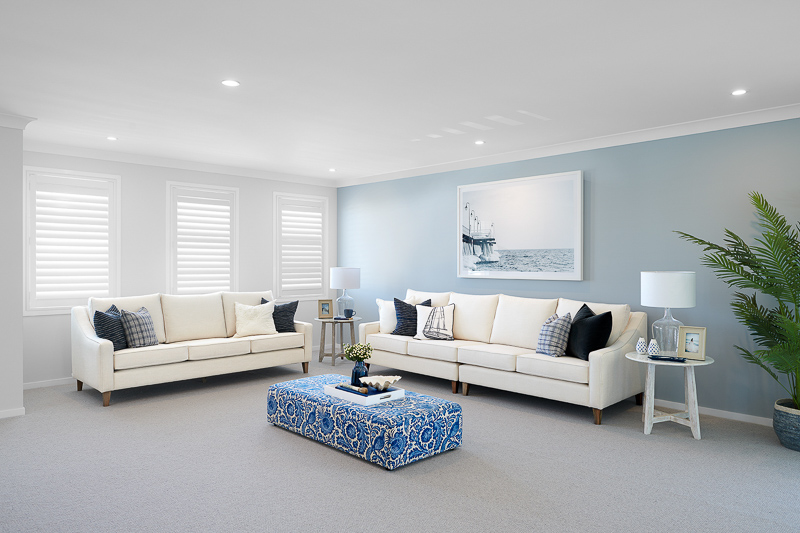 5. Dress It Up
Once you've got your core Hamptons elements in place, it's time to bring it all together with homewares and accessories. Draw your inspiration from the beach with ocean-inspired decor like driftwood and bleached coral – just be sure to keep it subtle and avoid overwhelming the space with too many elements.
Those blue and white shades that form the centrepiece of your Hamptons colour palette can be continued in your accessories. Consider blue and white ceramics, patterned vases, and vivid cushions with jute edges or piping. Light florals and lace patterns can also add to the visual appeal of a Hamptons-style room.
Plants are another important feature of Hamptons design. Go for large, solid varieties with dark green leaves that contrast beautifully against white or light walls.
Artwork is the finishing touch that ties everything together. Choose pieces that match the colours of your space, such as paintings with different shades of blue reminiscent of the ocean, or nature-inspired images such as tropical leaves.
Looking for design inspiration for your new home? Why not visit one of our display locations to discover our luxurious and affordable designs.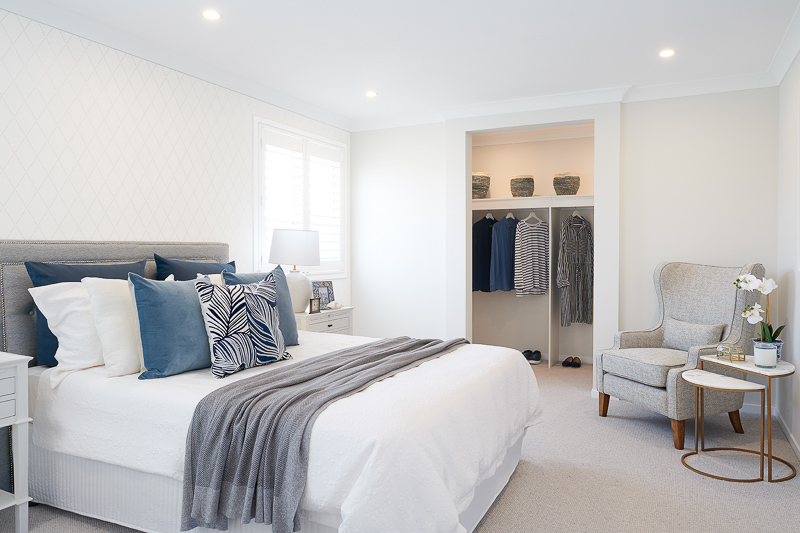 Sources:
https://www.homestolove.com.au/how-to-design-a-hamptons-style-home-6471
https://www.bhg.com.au/how-to-do-hamptons-style-interiors
https://www.tailoredspace.com.au/blogs/blog/5-tips-for-decorating-a-hampton-style-home-gold-coast-interior-design