As we embrace the warmer weather, the biggest styles for housing interiors are bold and beautiful – and they are all adaptable to your home today.
After all, our homes are our havens, and we don't just want them to be comfortable, but to echo a positive spirit as well. This feeling is bringing with it confident, classic patterns and textures, all of which Allcastle Homes can help you incorporate anywhere in your new house, from the kitchen or bathrooms to communal areas.
Chevron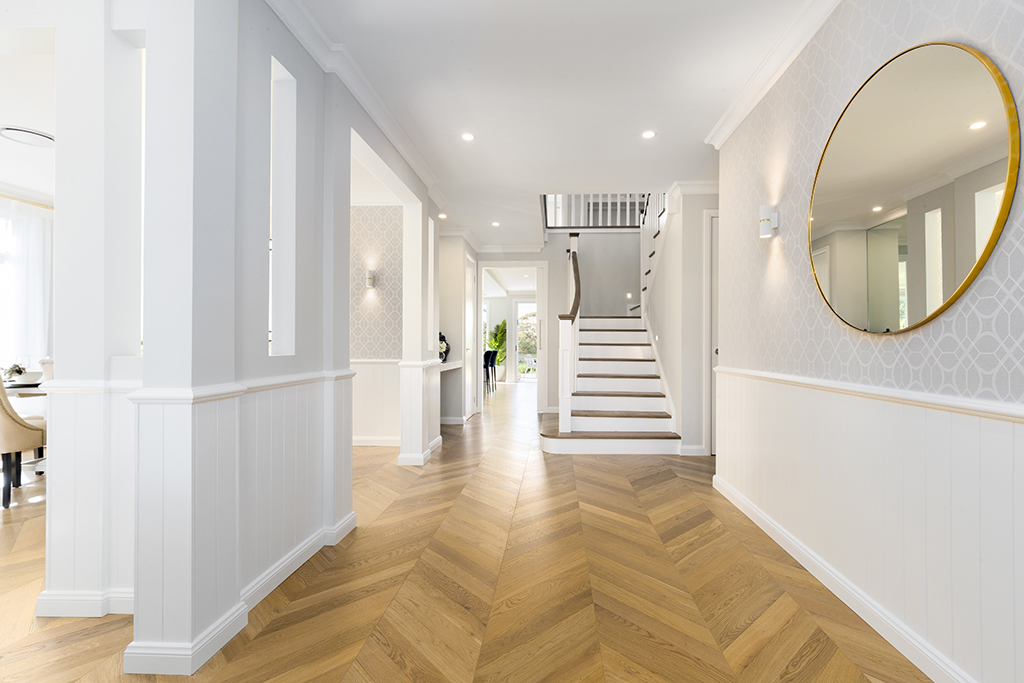 The Palace Regent – HomeWorld Box Hill
Instantly recognisable and always engaging, this uninterrupted, inverted V-shaped zigzag pattern is popular for bedding, splashbacks and bathroom tiling.
Making a return to prominence in its traditional black and white, chevron also works well in brighter contrasting colours, though it always makes an impact if you're looking to add interest to a room without going as far as to incorporate a total new colour scheme.
If you're running with floor tiles in a larger space, chevron also works great when contrasting white with same-sized tiles in neutral tones such as a wood effect and gradually merging them. This creates an interesting, distinct effect that is still cohesive and compelling.
For a subtler but effective way to use chevron to highlight a room, a feature wall or large floor rug will easily create a highlight, or scatter cushions will catch the eye without overwhelming.
Herringbone
A similar pattern to chevron but offering a "broken", more staggered aesthetic, herringbone is also engaging with stylists at the moment because it works in so many situations.
Look to adopt this beautiful and timeless design for tiling and flooring that takes elegance to the next level.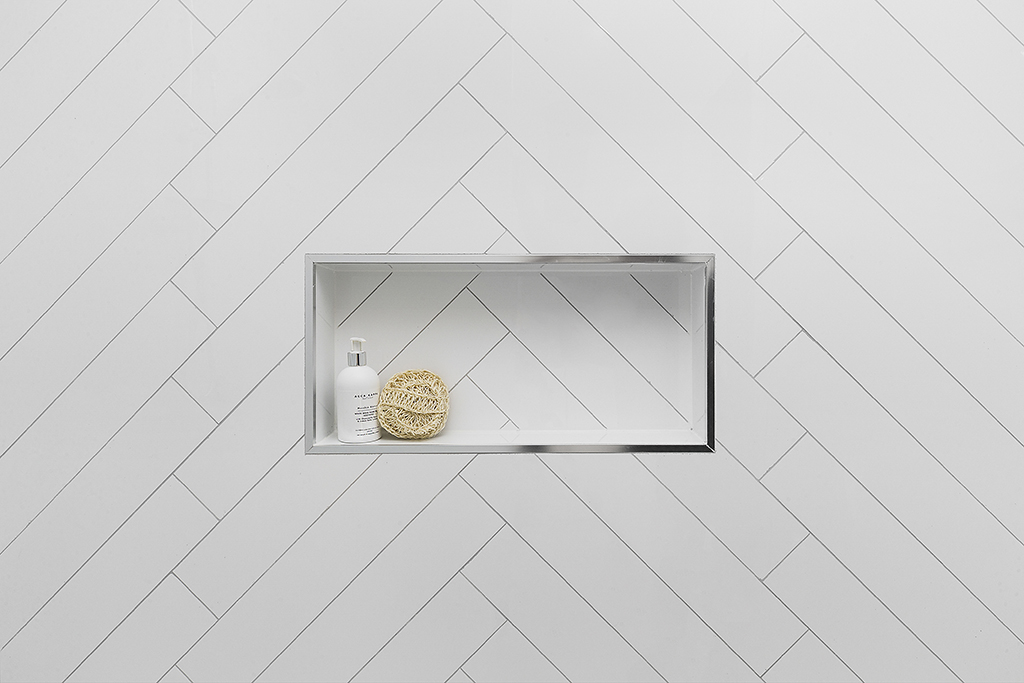 With its distinctive arrangement of rectangles set in a repetitive pattern – most commonly in a 2:1 ratio – based on symmetry, herringbone distinguishes itself by working well for rooms both large and small.
In a larger room, herringbone will offer a focal point, such as using it as tiling for the splashback of an open kitchen. This provides impact that doesn't overpower.
In a smaller room, it delivers a feeling of space, making the room feel larger but still comfortable because it leads the eye naturally outwards.
A herringbone feature rug in a hallway also adds impact, with darker herringbone working very well against pale features.
If you're looking to shake things up just a little, cobblestone uses the same pattern theory as herringbone but mixes it up just enough to give it a more striking edge. Starting with rectangular tiles placed in herringbone style, smaller square tiles then sit around the edges to create a larger and traditional pattern across a floor, which is both interesting and comforting.
Subway
If you're after a tiling pattern that evokes a classic feel while fitting into any situation, you can't go past subway.
Another stylish configuration enjoying a major resurgence at the moment thanks to its elegance and simplicity, this pattern sees rectangular tiles stacked like bricks for a timeless and always effective feel. You can also go with square tiles, or any geometric shape that you feel works for the room.
First coming to prominence in the early 1900s to give New York's underground rail system a safe feel that was easy to clean – thanks to its slightly curved edges and glossy finish – subway continues to tick all its design boxes while adding a bright element of class and distinction to interiors of all types.
It's for these reasons that a subway pattern remains a practical decision for modern kitchens and bathrooms. Indeed, anywhere that you're looking for something familiar and functional.
But note: Subway works best for walls, as the relatively thin tiles don't stand up to the wear they receive on floors.
For a fun approach, though, you can mix things up – which is what current aesthetics is all about – by having a rack of the tiles placed through at a 45-degree angle for a diagonal effect which isn't just engaging, it helps to expand the feel and tone of a room.
Mirror
If there's one thing that adds a unique edge to an interior more so than patterns, it's texture – and if there's one texture that's simple but effective and extremely hot right now it's mirror.
The best thing about using, for example, a decorative wall mirror is that it doesn't only add a sense of space, but it reflects any other textures and tones you've utilised in the same space.
You can also take the opportunity to add another dimension to the room by choosing a frame that best reflects the unique colour and detail you've decided to run with in the room where it's featured.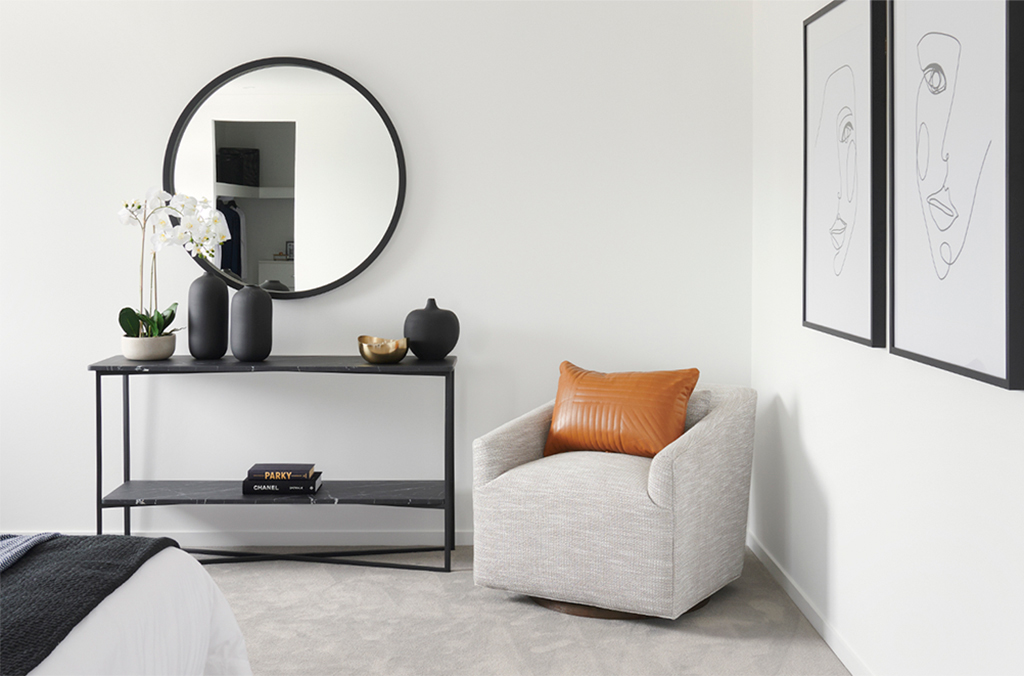 Take time to find the optimum spot in the room for the mirror to make the most of the light available. For instance, in the kitchen as a splashback or opposite a window that allows you to enhance natural rather than electric light, bouncing it throughout the room. An added bonus with this is the benefit more light has on any indoor plants you have.
Similarly, a large mirror in the entranceway to a house will give a welcoming feeling while maximising natural light.
Stone
One texture that immediately stands out when used for an interior feature is engineered stone. The beauty of engineered stone will add a unique sense of depth and comfort to any kitchen or bathroom.
An effective way to bring the warmth of engineered stone into your home is with a kitchen splashback. Easy to clean and a great place to add a classic feel to your contemporary Allcastle Homes residence.
Another way to bring engineered stone into your kitchen is with your benchtops, which isn't just an attractive option visually but is also practical and highly durable.
Meanwhile, slate wall cladding or floor tiling will bring the beauty of the natural colour into play. Or you can opt for specially formulated paints that imitate the look of worn stone for immediate impact.
The beauty of stone is that it works as either a matte tone to enhance the warmth of your lighting, or with glistening specks or a textured surface to add a new dimension to the room's light.
Either way, Allcastle Homes are experts in how to incorporate these and many other patterns and textures into your new home. Be sure to talk to your colour consultant about any design ideas you have or options they can suggest.