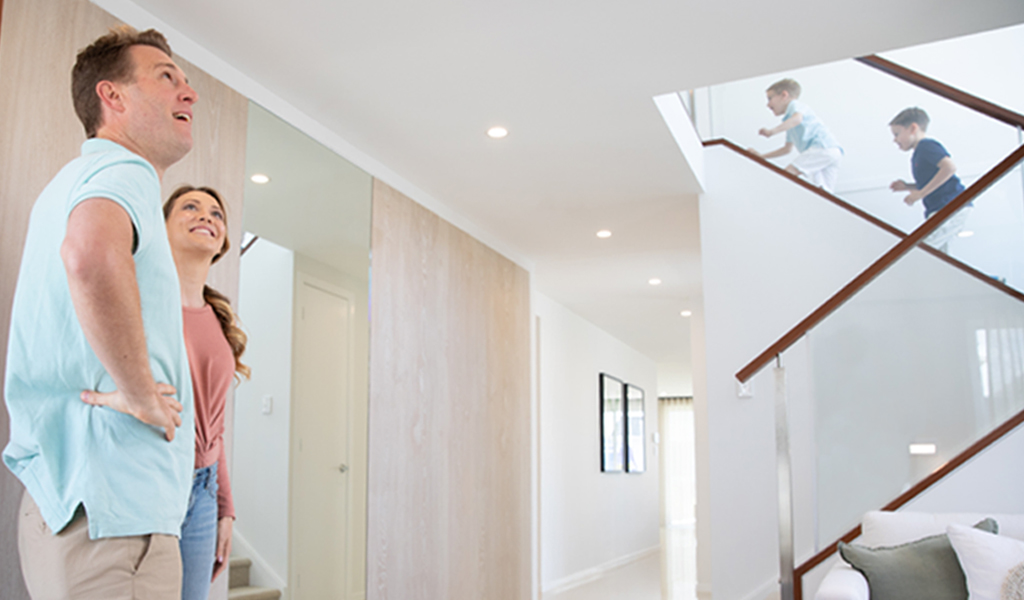 Everyone will have different personal reasons to advance from the seemingly unending cycle of renting a residence to the satisfaction of owning your own home. But there are some very sound reasons why becoming a homeowner is now within your grasp.
1
The first-home loan deposit scheme (FHLDS - New Homes)
This Australian Government initiative supports eligible first-home buyers to get into the property market sooner.
The scheme means you can buy a new dwelling valued at up to $950,000 in Sydney with as little as five per cent deposit, rather than the normal 20 per cent.
The scheme allows you to avoid lenders mortgage insurance (LMI), saving you as much as $10,000, because the National Housing Finance and Investment Corporation guarantees to a participating lender up to 15 per cent of the value of a property financed by an eligible first home buyer's home loan.
This comes at a time when first-time buyers account for 41.1 per cent of home loans, according to ABS figures.
In the 2020-21 Federal Budget, the Australian Government announced an additional 10,000 FHLDS places for the 2020-21 financial year, specifically for eligible first home buyers building or purchasing new homes. These additional places are known as the First Home Loan Deposit Scheme (New Homes) or FHLDS (New Homes).
There are currently 27 participating lenders across Australia offering places under the First Home Loan Deposit Scheme.
Go to nhfic.gov.au to find out more information or if you would like our finance partners to check your eligibility contact us and speak to a consultant today.
2
Low interest rates
With the deputy governor of the Reserve Bank declaring that Australia is technically out of the recession bought about by the pandemic, local banks are still offering low interest rates on home loans.
This is a result of the housing market remaining more resilient than many may have expected during recent times, marking yet another reason to stop paying someone else's mortgage and enter the property market yourself. Of course it's always wisest to shop around to find the lowest rates.
Allcastle Homes are also here to offer advice, along with our financial partners at MAB to help with your eligibility.
3
The HomeBuilder grant
Another Australian Government initiative where Allcastle Homes are perfectly positioned to help is the HomeBuilder grant. This provides eligible first home owner/occupiers $25,000 to build a new home, substantially renovate an existing one or buy an off-the-plan/new home. This financial boost will finish on 31 December 2020 however will be extended with a $15,000 grant between 1 January - 31 March 2021.
Once you have been approved, construction must commence within six months of the contract date, and the property value for house and land can't exceed $750,000 for purchases before 31 December 2020 and below $950,000 between 1 January - 31 March 2021.
Eligible Allcastle Homes house and land packages on registered land come complete with quality inclusions and driveway and turf to front and rear yards.
4
Tax deductions
There are several tax benefits homeowners will encounter when they leave the cycle of renting. One of the most relevant at the moment comes if you are working from home.
More and more people are finding they can deduct occupancy expenses such as mortgage interest as well as land tax and rates, as well as running expenses such as phone, internet and the depreciation of their equipment. There are factors to this, however, such as if you have a dedicated work area such as a spare room.
Homeowners who use their residence as an investment rental property can also claim interest charged on their home loan. They can also use negative gearing to offset their taxable income against losses from the rental property.
5
Security
This is of course the biggest advantage in making the leap from renter to homeowner, sooner rather than later. Having a piece of the property market for yourself and generations to come provides security in life.
How many times have people considering buying property spoken about how much they wish they had jumped into the market five years earlier. That's why the time to do it is now. Real estate is widely considered the safest investment in your future. And the current climate makes this fact truer than ever.
So if you're considering laying down the foundations for your future, either with a new home, a home that's ready to move into now, or with a house and land package in a growth region, contact Allcastle Homes today.