More than any other home design trend, it seems Australians just can't get enough of a Hamptons-inspired home, with demand for this distinctive style growing in popularity every year.
So what is it about a Hamptons home that has captured the hearts and minds of so many homeowners?
Taking its name from the affluent coastal suburbs that are the hotspot for New York's elite, the Hamptons mix of glamour and sophistication with a laidback coastal feels right at home in Australia.
Even if you're a million miles away from ocean breezes and crashing waves, with its focus on bright airy design and beachy vibes, the tranquil Hamptons style invites you to leave the outside world behind and come home to a place where you can enjoy the simple pleasures of family life in style.
What makes a Hamptons home?
It all starts with the outside. Typically, a Hamptons style exterior will feature an external colour palette of timber, cool white and soft grey tones. This classic combination gives a Hamptons exterior its dynamic street presence and looks equally at home in a coastal, urban or rural setting.
At Allcastle Homes, you can choose a Hamptons façade for almost any design in our entire collection. No matter what your price range, our simple yet striking Hamptons and coastal facades can transform the home of your choice into a family home that looks and feels luxurious. Conjuring up all the elements of sophisticated, relaxed living, this is affordable luxury without compromise.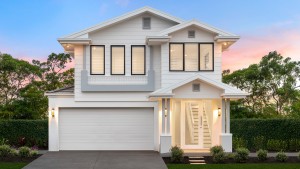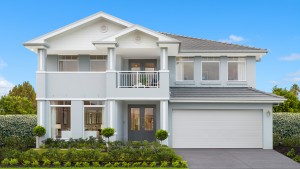 Hallmarks of a Hamptons interior
A Hamptons interior should make you feel like kicking off your shoes and relaxing into a luxurious oversized sofa as soon as you walk in the door. Allcastle Homes' Bannaby Avoca is a beautiful example of the role proportion, scale and light play in creating the perfect Hamptons interior. Easy living is key, with a floorplan that is free flowing to allow effortless movement from room to room. Picture windows are a big feature, flooding the spaces with light and encouraging a seamless connection to the outdoors.
Entertaining and refined family living is at the heart of any Hamptons home, and the high-end kitchen in Allcastle Homes' Palace Regent is classic Hamptons style at its most breathtaking. Considered design elements such as shaker-style panels on cabinetry, oversized stone benchtops with waterfull edges, large drawers, timber floors and accents of colour and texture replicate the simplistic grandeur of the Hamptons lifestyle.
Here are our top tips for adding a touch of beautiful Hamptons style to any home.
Coastal Colours & Beachy Tones
Cool coastal blues offset by fresh whites instantly evoke ocean breezes and crashing waves - and these water-inspired colours form a key part of a Hamptons colour palette.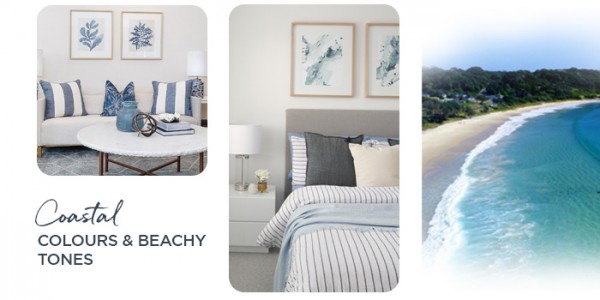 Textures Inspired By Nature
When it comes to textures - whether in furnishings, homewares, or fabrics - opt for natural and organic materials that bring a touch of the rugged coastal outdoors to your interiors. Stripes and chequered fabrics used in a contemporary way can add an interesting and playful touch to your Hamptons-style design.
Furniture Made For Relaxing
A Hamptons-style home is designed for effortless entertaining and laidback gatherings. Comfort is key, so look for pieces like deep, overstuffed sofas that offer a perfect spot for sinking into, adorned with plenty of soft cushions, piled up for that inviting feel.
Light-Filled Interiors
Picture beautifully bright interiors bathed in natural light. There are plenty of Hamptons-esque ways to introduce light into your space including natural-looking pendant lights with basket or woven-style fittings, and table and floor lamps are another great way to bring light to areas that need it.
Dress It Up with accessories
Draw your inspiration from the beach with ocean-inspired decor like driftwood and sea shells. Consider blue and white ceramics, patterned vases, and vivid cushions with jute edges or piping. Light florals and lace patterns can also add to the visual appeal of a Hamptons-style room.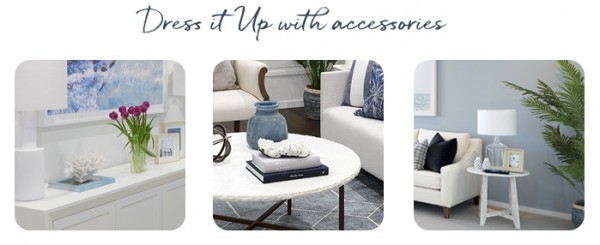 Looking to live your own Hamptons-inspired lifestyle? Talk to one of our consultants on 1300 255 999 or take a virtual tour of our designs and discover all the affordable luxury of our Hamptons homes.
Our Displays
Bannaby Avoca, HomeWorld Box Hill
Palace Regent, HomeWorld Box Hill