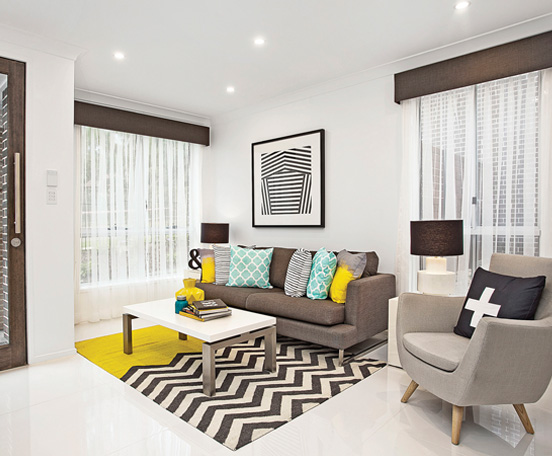 A brand new home's walls are the perfect canvas for artistic flair. And the good news is that you don't have to be a skilled artist or interior designer to achieve a stunning result because art is a personal choice – it's all about expressing your unique style and personality.
Whether you're decorating on a budget or have money to invest, follow these tips and every visitor to your home will admire your panache.
1. Define your Style
Following a theme is a great way to choose art that can pull your homes' look together. The artwork you choose could reflect your hobbies and passions; a place, a culture, a period in time, a texture, a material or a favourite colour.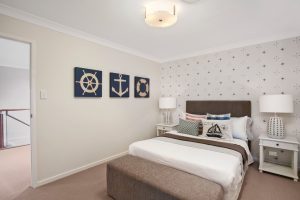 Think about the style of accessories and decor already in your home and choose pieces that will help complete their visual story. We're really on board with the way these cruisie prints tie together the nautical theme of The Freshwater at The Ponds.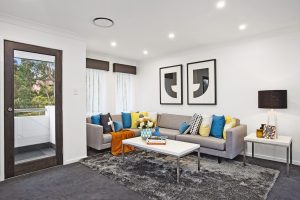 If modern contemporary is more your style, you can't beat bold graphic posters like those seen in The Empire living room at Homeworld Kellyville.
2. Think outside the frame
When you say "wall art", most people think paintings. We'd all love to be able to invest in a hand painted watercolour, oil or acrylic painting, but not everyone can afford originals and they may not even suit the look we want to achieve. Fortunately, paintings are not the only form of wall art available – here's some other creative options.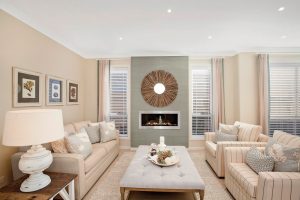 Mirrors like this dramatic, driftwood framed mirror, featured in The Kensington 12 at Homeworld Kellyville, not only make a stunning feature, they also increase your sense of space and help bring more light into a room.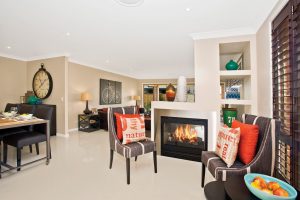 This large, vintage wall clock in our Neworth Grand at Homeworld South adds a truly unique touch and accentuates the eclectic, industrial style of the home.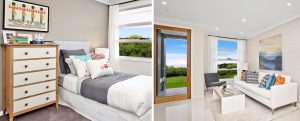 Print images, canvases, vintage-style signs, posters and maps are trending at the moment, as are drawings and illustrations. Contemporary Scandinavian inspired the choice of artwork in The Grandking, at Jordan Springs.
3. Get things in proportion
The size and scale of your artwork is critical. It should not just fit on your wall, it should complement the size and the arrangement of the room, too.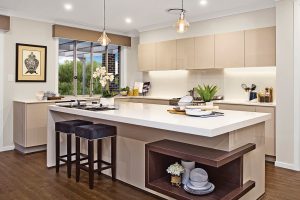 Small artwork can look just right positioned between windows and doors, but it could get lost on a large wall, unless it's hung in a collection. Likewise, large pieces on small walls can be overpowering. Make sure your room is big enough for people to take a step back and admire your art properly.
4. Come through with flying colours
Look for colours within your artwork that complement your room's existing wall colours and furniture tones. Similarities can help create cohesiveness and harmony, as seen in The Grandworth Newbury 37 and The Regal Elite and Homeworld Kellyville.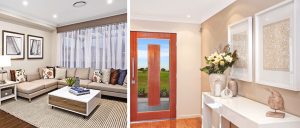 And finally, if you want a piece that looks stunning with any colour palette, choose basic black and white – it just seems to go with everything.
5. Love will find a way
Above all, if you truly love a piece, you'll find a special spot for it somewhere in your home. Good art is about the emotions it evokes, so all you really need is something you enjoy.
For more information about any of the homes you've seen here, contact an Allcastle Homes consultant.
View price lists
Request further information